Sonderangebote AXIA LIVEWIRE
2001-00320
Fusion 12 position mainframe
Kaufen
Katalogpreis

3'050.00


CHF 2'130.00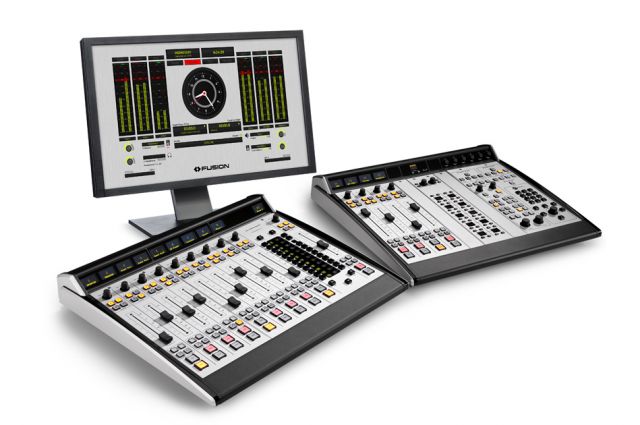 Beschreibung
Vorführgerät, neuer Zustand
Garantie : 12 Monaten

Achtung, das Bild zeigt das Chassis mit Modulen (nicht im Lieferumfang des Mainframes enthalten).
P/N 2001-00320: 12-Position Mainframe, Width: 25.3 in (64.3 cm.), Front-to-back: 20.25 in. (51.5 cm.)

Beautiful and rugged, with anodized metal work surfaces and highresolution OLED displays throughout, the Fusion modular console has power to match its good looks. Available in sizes from 8 to 28 positions, with support for up to 40 faders in multiple linked frames.

Fusion is powered by either the Axia PowerStation or StudioEngine. Console directly to Axia network with a single Ethernet CAT-6 or CAT- 5e Ethernet cable. Four Program buses and four auxiliary buses. Virtual Fader and Virtual Mixer (VMix) technology with up to 16 five-channel VMixers allows extending the mixing capacity of your Fusion console far beyond physical fader count. New Expert Source Profile controls allow power users granular command of GPIO control, mix-minus, Talkback and other behavior, based upon console channel state. Flexible Record Mode gives complete control of monitors, meters, headphone feeds, Program bus assignments and more.

A variety of module types provide control of mic/line inputs, telephones and other devices. Enhanced, integrated features for phones and codecs include auto-assigned mix-minus on each channel, easy talkback for remote talent cueing, one-button off-air phone record mode, and optional integrated Telco line switching. Show Profiles allow up to 99 console "snapshots" with different preferences, layouts and defaults to be loaded instantly, customizing the board to each show or talent if desired. Includes digital EQ, Omnia dynamic mic processing, talent headphone processing and many other advanced features. Allows sharing of audio resources across multiple studios. Requires one user-supplied DVI-D computer monitor with 16:9 aspect ratio, for metering and options display. Fusion consoles require a power supply and mixing engine. Fusion may be used with either a separate Axia Power Supply (P/N 2001-00375) and StudioEngine (P/N 2001-00306), or the PowerStation all-in-one power supply/mixing engine/audio I/O center (P/N 2001-00251) described later in this section.

Redundant power is available with either mix-engine platform. PowerStation users may add a PowerStation AUX with auto-switching backup power supply and additional I/O. StudioEngine users may connect a second Axia Power Supply directly to the console for autoswitching, redundant backup power. Now includes support for AES67.
Spezifizierungen
From 8 to 40 fader channels, each with instant, unlimited access to any source. Assign any type of source to any channel.

Rugged construction of extruded aluminum ensures rigidity and EM-tightness. Anodized aluminum work surface with laser-etched markings that can't be rubbed off ensures durability and good looks for life.

Four main stereo outputs (Program-1 through Program- 4), plus four stereo Aux sends and two Aux returns.

High-resolution OLED displays above each fader strip display selected source, full-time source and backfeed confidence metering, talkback status, pan/fade information and more.

Integrated intercom capability includes built-in IFB for two-way communication to individual talent positions via headphone feeds and mics, plus a variety of optional drop-in intercom modules that connect to Axia IP Intercom whole-plant intercom systems.

Flexible, intuitive Talkback system lets board ops talk to hosts, studio guests, external feeds — any source with an associated backfeed.

Every channel has a stereo Preview ("cue") function, with a unique latching interlock system for fast, intuitive operation. Multiple channels may be assigned to Preview simultaneously.

Reconfigurable monitor section with reassignable controls let operators instantly change monitored sources "on-the-fly."

Software control of options such as EQ, mic dynamics, aux sends and returns, pan and balance and other features delivers maximum flexibility without panel clutter or intimidating controls.

Built-in Omnia dynamics processing lets operators combine compression, de-essing and expansion with EQ to "sweeten" microphone sources.

A unique, flexible Record Mode enables one-button setup of record mixes for phone bits or off-air interviews.

Consolidated user display conveys meter, clock, timer and monitor source information at a single glance. Meter up to 6 buses at once by default, using VU or PPM-style ballistics — add another 4 meters for a total of 10 if desired.

Precision timer and clock functions, including an event timer that can be triggered by pre-defined sources, a countdown timer with last-minute alerting and a time-of-day clock that can be synchronized to network time using NTP.

Show Profiles set-save-recall feature allows users to instantly recall a customized personal profile, or a profile tailored to specific show types. Up to 99 Show Profiles can be saved for interview shows, music-intensive programming, call-in talk shows, etc.

Console functions can be accessed remotely for configuration, management and diagnostic purposes using any standard Web browser.

Optional Telos phone control module provides direct, on-the-console line switching control of any Telos multi-line broadcast phone system.

Numeric keypad (with # and * keys) lets operators quickly place calls with phone systems or codecs attached to the Axia network.

Completely automatic, hands-free mix-minus generation for every Phone caller or remote Codec source.

Built-in User Keys for can be programmed with Axia PathfinderPC routing control software to control profanity delay units (such as the 25-Seven® Program Delay Manager), or can be used to trigger routing salvos, scene changes or send GPIO commands.

No audio passes directly through the Fusion control surface, keeping your programming safe from studio accidents. All mixing and processing is performed by the StudioEngine or PowerStation mixing engines.

Axia's trademark long-life conductive-plastic faders with side-loading actuation defy dirt, grit and dust.

Aircraft-grade switches with LED lighting have been tested to withstand millions of operations.

Can be directly remote-controlled using Axia SoftSurface software for Windows.