JK AUDIO
BDRV-F3
BlueDriver - Wireless Bluetooth Audio Interface, XLR3F input, jack 3.5 output
Katalogpreis


CHF 320.00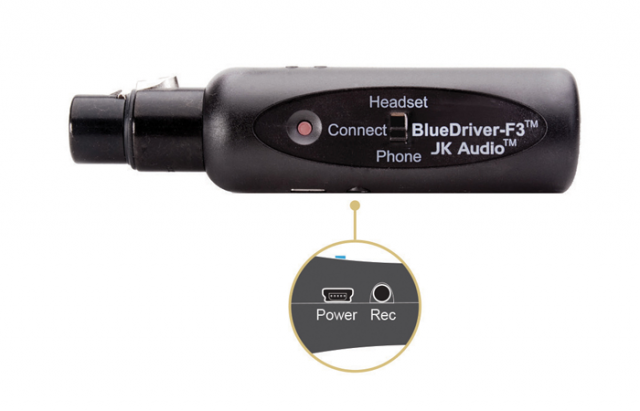 Beschreibung
Mic or Mixer output to your Bluetooth Device.

Pair to your Bluetooth enabled phone, headset, or speaker to route audio through your Bluetooth device. New to BlueDriver-F3, the 3.5 mm stereo output jack is now a headphone output jack, allowing you to monitor the return signal from your Bluetooth device over wired ear buds or headphones.

Headset Connect
Pair BlueDriver-F3 to your Bluetooth headset or speaker. BlueDriver-F3 functions like a phone to send and receive audio from a Bluetooth wireless headset, or transmit audio to a Bluetooth wireless speaker.

Phone Connect
Pair BlueDriver-F3 to your phone to capture wireless Audio-for-Video, make a live call into the station, or bring caller audio into your live event or podcast.
Spezifizierungen
Features
HD Voice Compatible (7 kHz Wide-Band Speech)
3-pin Female XLR Input
3.5mm Earpiece/Headphone Output
Trim Pot Adjusts Mic Level
Headset/Phone Switch
Mini USB Power Jack
>6 hours on Internal Li-Ion Battery
Made in America
Approved for Sale in Europe and Australia
Specifications
Input :3-pin Female XLR
Impedance : 1k ohms
Level : -34 dBu nom.
Output : 1/8" (3.5mm) Stereo
Impedance 16 ohms
Level 35 mW (750 mVRMS)
Bluetooth Wireless Technology
Standard : 3.0
Frequency Response :
- Hands-Free (Full Duplex): 300 Hz– 3.4 kHz
- Hands-Free (Full Duplex HD): 50 Hz– 7 kHz
- A2DP (Master » Headset): 30 Hz– 17 kHz
End-to-End Latency :
- Audio-for-Video or Audio Recording:
- 25 ms using HD Voice Profile.
- Streaming Full Bandwidth Audio:
150 ms using Bluetooth A2DP Profile.
Range : 66 ft (20 m)
Misc.
Connector : Mini-USB Series B
Battery : (250 mAh) Internal Lithium-Ion Polymer Rechargeable
Size : 1.1" x 4.4" (2.8 cm x 11.2 cm)
Weight : 2.1 oz. (60 g)