AXIA LIVEWIRE
2001-00328
Fusion Monitor module
Prix catalogue


CHF 3'010.00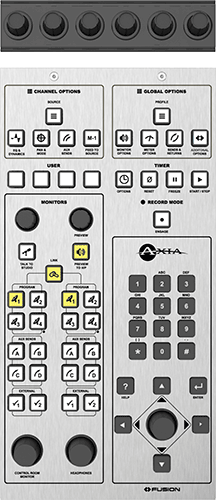 Description
Matériel de démo, état de neuf / Vorführgerät, neuer Zustand

The Expert Monitor/Navigation module shown here has extended monitor, headphone and preview controls, a numeric entry/dialpad that can be used with Fusion phone modules, plus four programmable User Keys that can trigger GPIO commands like profanity delay controls or recording devices, or be used with Axia PathfinderPC software to issue routing salvos, initiate scene changes, etc.

Master module with Deluxe monitor, headphone and preview volume controls, dedicated selection keys for Program, Aux Sends or External monitor. Four programmable User buttons for firing routing salvos, peripheral control, or other custom-programmed functions. Numeric entry/dialpad for use with Fusion Phone modules. Nav pad for onscreen options control; profanity delay controls can be linked to external delay unit. Includes SoftKnob overbridge control set. Occupies 4 frame positions. One Monitor Module per console required.