ELECTROCOMPANIET
AW 400
Amplificateur de puissance 1x400W/8Ohm, 1x765W/4Ohm, 358x470x261mm, 25Kg
Actuellement indisponible
Prix catalogue


CHF 6'890.00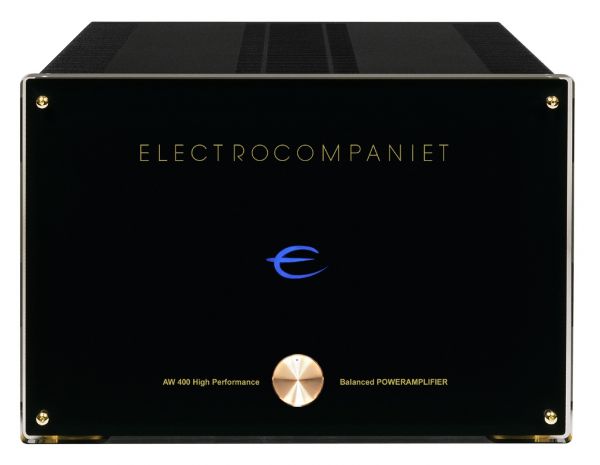 Description
Fabuleux amplificateur de puissance Classe-A Mono-Block symétrique 400W RMS sous 8 Ohms.

The Electrocompaniet AW400 is a powerful mono amplifier, with a characteristic fast and clean sound. The poweramplifier is analytic, and build for dynamic reproduction for low level as well as high level playback.

The Electrocompaniet AW400 power amplifier is based on the design philosophy of the highly acclaimed AW180 M monaural power amplifier.
The AW400 incorporates such refined features as: FTT (Floating Transformer Technology) power supply, capable of delivering twice the current of a conventional power supply. First class overall circuit design and state-of-the-art components. Uncompromising sonic and mechanical quality.
a 650 VA FTT transformer and a current reservoir of 150.000uF delivers
1 x 400 W of clean and powerful dynamics into an 8 Ohms load. Just like the rest of our power amplifiers, the AW 400 is stable down to 0,5 Ohms. The Electrocompaniet AW 400 features a balanced link to additional amplifier(s) for bi-amping. It can easily be used in bridged mode, delivering up to four times the power.
Spécifications
All measurements are made at 120V / 240V //50Hz / 60Hz
Amplifier section
Clipping point of the preamplifier is set to a level where total harmonic distortion (THD) is 0.2%
Input Impedance (Fixed) 330 kohm
Output Impedance (20 Hz-20kHz) < 0,01 Ohm
Frequency response (DC - 65 kHz) - 3 dB
Input level for rated output 1 V RMS
Max. peak current > 150 A
THD(measured at 1 kHzhalf power,8W) < 0,006 %
THD (measured at 1 kHz -1 dB, 8 W) < 0,007 %
Noise
(measured with both inputs shorted) 400 Hz - 30 kHz : 130 µV
DC - 30 kHz : 200 µV
Rated output power
8 ohms 400
4 ohms 765
2 ohms 1010
Power consumption (no load or signal) 230 W
Dimensions
Width 358 mm / 14.1 inches
Depth 470 mm / 18.5 inches
Height 261 mm / 10.2 inches
Weight 25 kg. / 55 lbs.