Offre spéciale JK AUDIO
BDRV-M3
BlueDriver - Wireless Bluetooth Audio Interface, XLR3M output, jack 3.5 input
Acheter
Prix catalogue

310.00


CHF 219.00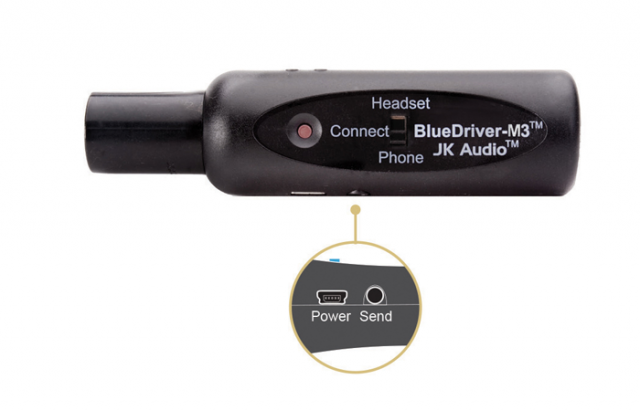 Description
Matériel neuf
Garantie : 24 mois

Bluetooth Device to Mic Input.
Pair to your Bluetooth equipped cell phone or headset to get audio straight from your Bluetooth device into your Mic input. The 3.5 mm send jack will accept a signal from the mixer for transmission back to the cell phone or headset.

Headset Connect
Pair BlueDriver-M3 to your 3rd party Bluetooth headset. Some Bluetooth headsets allow you to switch between your audio device and a cell phone.

Phone Connect
Pair BlueDriver-M3 to your cell phone to call into the station or bring in caller audio.
Spécifications
Features
HD Voice Compatible (7 kHz Wide-Band Speech)
3-pin Male XLR Output
3.5 mm Input
Headset/Phone Switch
Mini USB Power Jack
>6 hours on Internal Li-Ion Battery
Made in America
Approved for Sale in Europe and Australia
Specifications
Input : 1/8" (3.5mm) Stereo
Impedance : 20k ohms
Level : -10 dBu nom.
Output : 3-pin Male XLR
Impedance : 1k ohms
Level : -34 dBu nom.
Bluetooth Wireless Technology
Standard : 3.0
Frequency Response :
- Hands-Free (Full Duplex): 300 Hz– 3.4 kHz
- Hands-Free (Full Duplex HD): 50 Hz– 7 kHz
- A2DP (Master » Headset): 30 Hz– 17 kHz
End-to-End Latency :
- Audio Recording:
25 ms using HD Voice Profile.
- Streaming Full Bandwidth Audio:
150 ms using Bluetooth A2DP Profile.
Range : 66 ft (20 m)
Misc.
Connector : Mini-USB Series B
Battery : Internal Lithium-Ion Polymer Rechargeable
Size : 1.1" x 4.4" (2.8 cm x 11.2 cm)
Weight :2.1 oz. (60 g)