TELOS
ZX-XPD
ZEPHYR XPORT Portable stereo codec for analog lines and ISDN lines
Acheter
Prix catalogue


CHF 3'290.00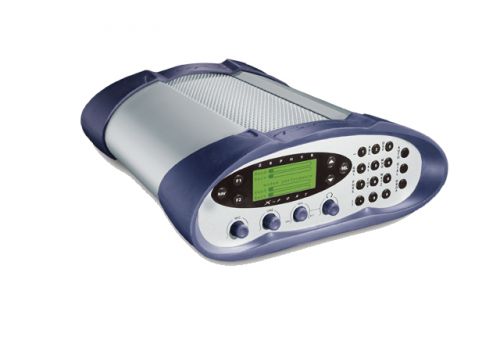 Description
Matériel de démo, état de neuf / Vorführgerät, neuer Zustand

When you're traveling to an important remote, "small and light" is the name of the game. Of course, excellent audio quality is a must-have, too. Zephyr Xport is the on-the-go broadcast codec that wins on both counts.

With Zephyr Xport, you get ISDN audio quality with POTS economy. Xport is the world's only POTS codec that talks to the Zephyr Xstream ISDN codec. So you get the most reliable connections, and the best audio, too. A Zephyr Xport in your remote kit makes your studio's Zephyr Xstream a "universal codec," since you can Xport with either POTS or ISDN to connect with your studio. You save the money, rack space, training time and telephone lines needed to support multiple dedicated POTS and ISDN codecs -- not to mention console audio inputs and mix-minus outputs.

Inside that light aluminum case - only seven pounds (3kg) - you'll find a custom DSP-based modem that's optimized for Xport's high-performance audio codecs. Zephyr Xport uses the
highest fidelity low-bitrate coding available, AAC plus (MPEG AAC + Spectral Band Replication enhancement); along with AAC-LD (Advanced Audio Coding – Low Delay) and G.722 coding. A fullfeatured mixer with mic and line inputs (and selectable audio processing by Omnia) completes the package. Got to get to a remote on the double? Grab an Xport and go!
Spécifications
Full duplex, high-fidelity monaural POTS + ISDN field transceiver. aacPlus and MPEG-4 AAC-LD coding.
Superior sound: aacPlus coding gives you the best-quality audio of any POTS codec, even at low bit rates.
Both POTS and ISDN capability, standard. Plug Xport into any POTS jack and dial your studio's Zephyr Xstream; plug into digital phone lines when available for ultimate flexibility.
Graphical display with backlight allows monitoring of send and receive levels simultaneously.
Navigation keys surrounding the display provide fast access to menu settings.
AUTO key gives one-button access to 100 stored Autodial numbers and 30 Location setups.
Ultra mobile: Xport is light-weight, portable, durable, and so compact it tucks easily into most flight bags.
Self-contained design: No wall-warts to lose or worry about; internal auto-ranging power supply works anywhere in the world.
ISDN Interface with Internal NT-1, includes RJ-45 "S" connector for use worldwide and RJ-11 "U" connector for use in the USA and Canada.
I/O includes mic input with provision for 12-volt Phantom power, direct output of received audio, headphone and monitor mix outputs and line-level input.
Built-in mixer with mic and line inputs and selectable DSP processing by Omnia. MIX control lets you blend IFB audio with send audio for headphone and PA feeds. Front-panel headphone level adjustment controls rear-panel output.
Two bi-directional contact closures for remote operation of connected devices.
AUX INTERFACE provides convenient input/output to a cellular phone's headset jack for wireless transmission, or to send audio cues from auxiliary sources (such as a secondary mixer) directly to talent's headphones. May also be used as a dedicated record output.
100Base-T Ethernet port provides web-based remote control using a local computer, LAN or WAN connection.