YELLOWTEC
YT4240
PUC2 Lite Interface audio USB professionnel avec entrées sorties AES/EBU sur XLR
Actuellement indisponible
Prix catalogue


CHF 510.00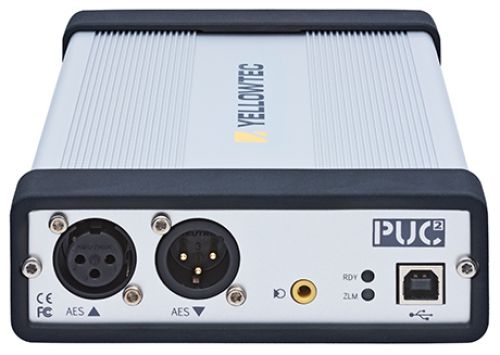 Description
PUC2 is an all-new hi-definition USB audio interface with breakthrough horse power: unmatched opreating reliability; plug'n'play installation, breakthrough AES-3 and balanced analog audio quality with up to 192 KHz @ 24 bit. With a sensationel dynamic range of 105db.

Effortless installation.

With support for Windows and OSX, simply connect PUC2 Lite to the USB port of your PC or Mac and watch the automatic installation. In only a few seconds you'll be enjoying the highest standard of USB audio performance. There are no drivers to install, and since it's USB-powered, you don't need a separate power supply.

Digital purity.

PUC2 Lite offers AES3 digital audio (XLR) inputs and outputs, so it's a brilliant cost-saving solution when your application doesn't call for analog audio interfacing. And most importantly, PUC2 Lite delivers the same specs as the PUC2, ensuring you receive equally exceptional performance. For enhanced ease-of-use and functionality, we also offer a proprietary ASIO driver available for download free of charge.

Improving your workspace.

Since PUC2 Lite is powered via USB, there's no bulky power supply and fewer cables to connect, so it delivers exceptional performance without cluttering your workspace.

Anything but average – the superior audio quality you deserve.

Just like PUC2, PUC2 Lite delivers the highest available audio standards – up to 192 kHz at 24-bit – with a sensational dynamic range of 105dB. It combines simple, seamless setup with a clever modular design, providing the flexible ease-of-use you demand and the audio quality you deserve.

Latency is history.

Zero Latency Monitoring is a unique feature that allows you to monitor your recording signal in real-time, without any kind of delay. You can choose between listening to the input signal, or the return path arriving via USB.
Spécifications
What's in the box
PUC2 Lite
PUC Software Utilities
USB cable
Manual